Style Hard Plastic coasters with cork back – set of 6
Decorate your home with custom coasters! Made with high-gloss plastic and a non-skid cork backing, these coasters display your favorite animal or critter with vivid and sharp colors. Perfect for hot and cold drinks, coasters are a great complement to any table or surface.
Dimensions: 3.8″ x 3.8″
Coasters come in sets of 6
High gloss plastic with non-skid cork backing
Easy wipe-clean surface
Style Coaster Puzzle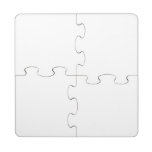 Piece it together and create a fun tabletop game with a custom puzzle coaster! These coasters fit together to create 1 large coaster or trivet and break apart into 4 standard sized coasters. Finished with a glossy coat and made with a cork base, these puzzle coasters will look awesome with the Hand Critters while protecting your surfaces from your favorite beverages.
Dimensions: 7.4″ x 7.4″.
Constructed with sturdy hardboard and finished with a glossy coat.
Cork backed.
Comes in a four piece set that fit together to create 1 large coaster or trivet.
For all the Hand Critters and all the product designs available at the Hand Critter store, as well as the Hand Critter books: ©2011 Copyright by Dyango Chavez Cutiño. All rights reserved.
All the designs available at zazzle.com, and featured in our website are copyrighted by each individual designer, as explained on each product page.
About our gift products
The Hand Critter gifts are sold in the marketplace at the online retailer zazzle.com. Click on any product image to open the product page at our zazzle store. There you will find more information about the product, and options to customize it to your liking. Clothing, for example, have different options for women, men, kids, or babies. There is a variety of styles, sizes, colors, and more available. If you have any questions, please visit our FAQ page, or contact us.
The Hand Critters are available on many gifts for animal lovers, such as t-shirts, mugs, ornaments, cases for iPod, iPad and iPhone, and more.
The Hand Critters also star in two ABC books and two ABC posters for the little ones at home. We have an English ABC book and a Spanish ABC book.
About the Hand Critters
The Hand Critters are an ever-growing family of cute hand animals and other critters, human, real, and fantastic, made from the outline of their creator's hand.